Teeth Whitening at Fountain Valley Dental in Molalla, Oregon
If you are looking for professional teeth whitening in Clackamas County Oregon, You've come to the right place. Having a bright, white smile can make you feel a lot more confident about your overall appearance. At Fountain Valley Dental in Molalla we want you to love sharing your smile! We employ tooth bleaching to quickly whiten your teeth and brighten your smile.
As you probably know, it's much more effective to have your teeth whitened professionally, rather than buying over-the-counter kits. Dr. Whitted DDS and the Fountain Valley Dental Team know your teeth and use advanced whitening technology to achieve dramatic teeth whitening results.
If you're looking for a faster way to whiten your teeth, visit the dentists and dental team at Fountain Valley Dental. We provide both in-office and at-home treatments to whiten your teeth.
Professional Teeth Whitening Simulation Video
Cosmetic Dentistry Services Available At Fountain Valley Dental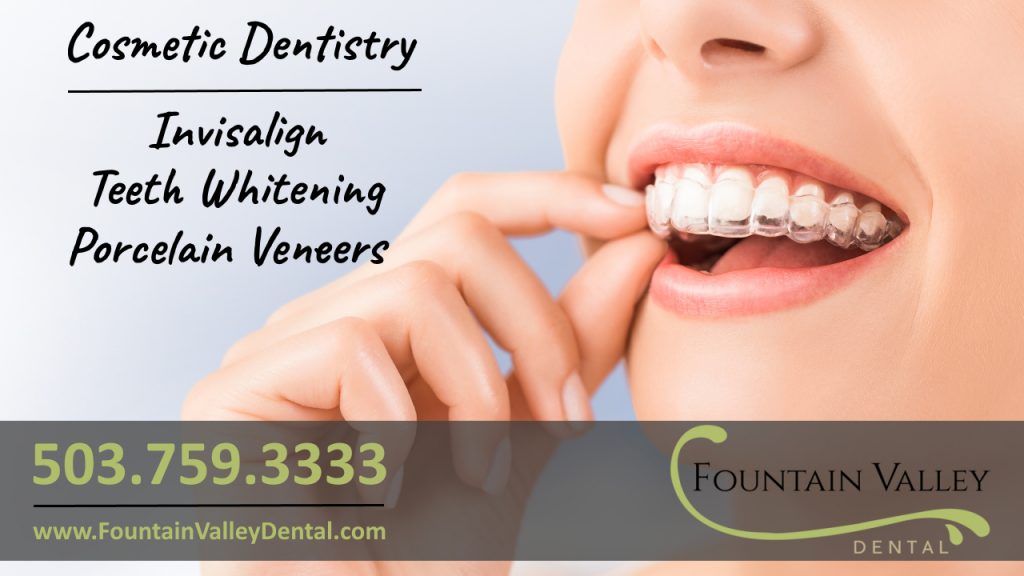 Fountain Valley Dental offers multiple cosmetic dentistry solutions if you are looking to improve your smile and straighten or whiten your teeth.
Professional Teeth Whitening
Give Fountain Valley Dental a call or Contact Us for Free Teeth Whitening, Invisalign or cosmetic dentistry consultation with one of our Molalla dentists and the Fountain Valley Dental Team.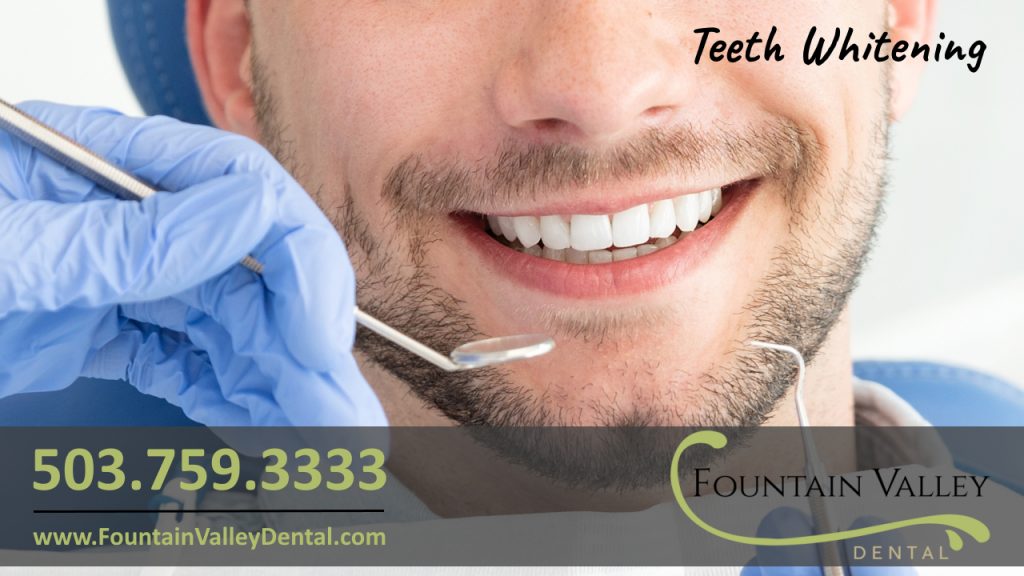 ADVANTAGES OF PROFESSIONAL Teeth Whitening /&TOOTH BLEACHING in Molalla, OR.
Personalized care: When you visit us we can discuss teeth whitening and determine the best way to whiten and brighten your smile, based on your goals and your lifestyle.
Customized teeth whitening kits: Dr. Whitted knows your teeth much better than the standardized whitening kits do. Store-bought kits are one-size-fits-all, and generally do not conform to the shape and structures of your teeth. Our kits include custom-made, custom-fitted trays.
Greater comfort: Attempting to whiten your teeth by yourself can result in unwanted sensitivity, white spots, and/or other issues with your teeth. With in-office teeth whitening, or by using a teeth-whitening kit prescribed by Dr. Whitted, you are likely to have more success and avoid sensitivity.
Quick results. Professional teeth whitening is simply more powerful, allowing patients to see a difference in their smile in as little as one appointment.
Convenience: If you don't want to do an in-office whitening, Dr. Whitted offers at-home teeth whitening trays, so that you can still enjoy the flexibility of whitening your teeth when it's convenient for you. The difference here is that you can still see professional and noticeable results.
Serving Molalla & Clackamas County Communities Since 2015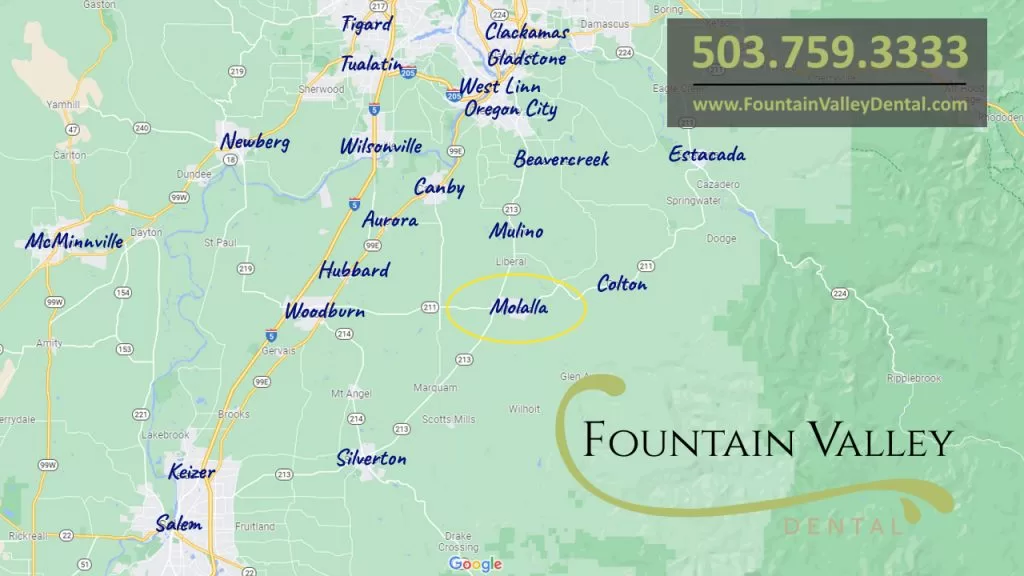 The Fountain Valley Dental Clinic and dentists are located in Molalla, and we have many patients drive to see us for our exceptional dental care from around Clackamas County including the nearby communities of Molalla, Mulino, Oregon City, Canby, Silverton, Colton, Beavercreek, Estacada, Woodburn, Salem, West Linn, Clackamas, Gladstone, Tualatin, Wilsonville, Aurora, Hubbard, Barlow, Gervais, Keizer, McMinnville, Hayesville & Newberg, OR.
We Are Committed to Excellence In Dentistry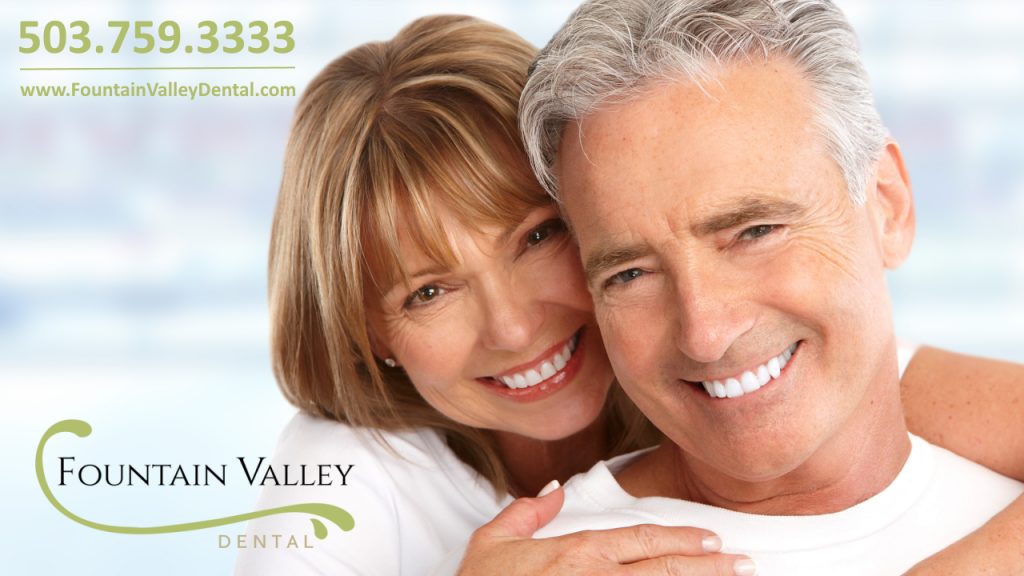 Our Goal Is To Keep You Smiling For Life!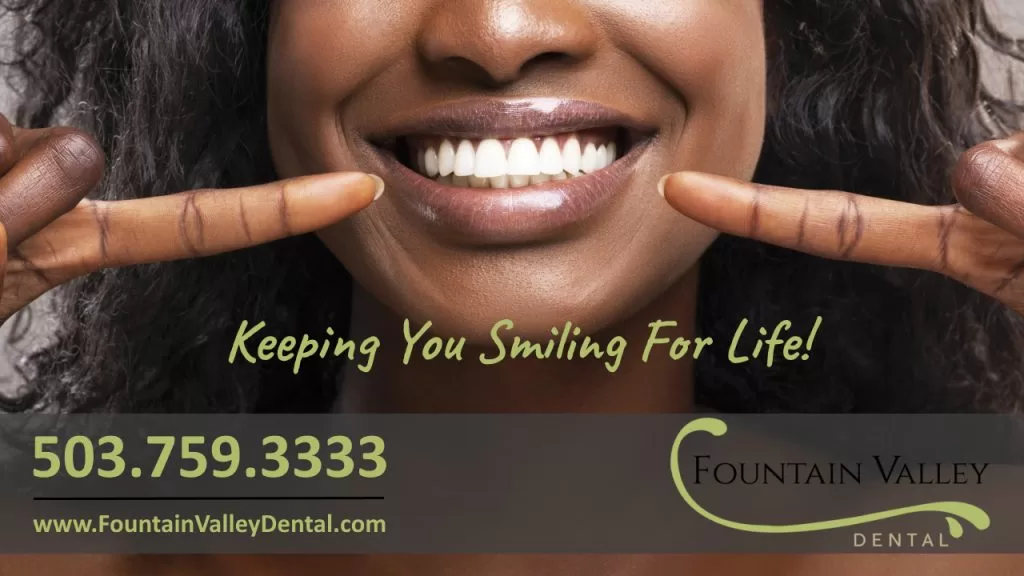 What To Expect At Fountain Valley Dental
What Our Dental Patients Say About Us