Welcome to Fountain Valley Dental in Molalla, Oregon. Dentist Dr. Benjamin Whitted, DDS, and the amazing dentistry team at Fountain Valley Dental are committed to excellence in dentistry. We're determined to make dentistry different! At Fountain Valley Dental, we want to make your dental experience something to smile about. We're proud to offer our patients careful, personalized, and comprehensive dental care combined with our advanced dental technology. Dr. Ben Whitted and our team provide the expert dental services you need to maintain a healthy and beautiful smile. When you enter the Fountain Valley Dental Clinic we want you to feel welcome and that you are someplace special that really cares about how you feel, listens to your needs, and is capable of providing you the best possible dental care for you and your family. When you leave Fountain Valley Dental you'll feel as though you are part of our Fountain Valley Dental family… because you are. Our goal is to keep you smiling for life! At Fountain Valley Dental we've been changing lives through dentistry in Molalla and Clackamas County, Oregon since 2015.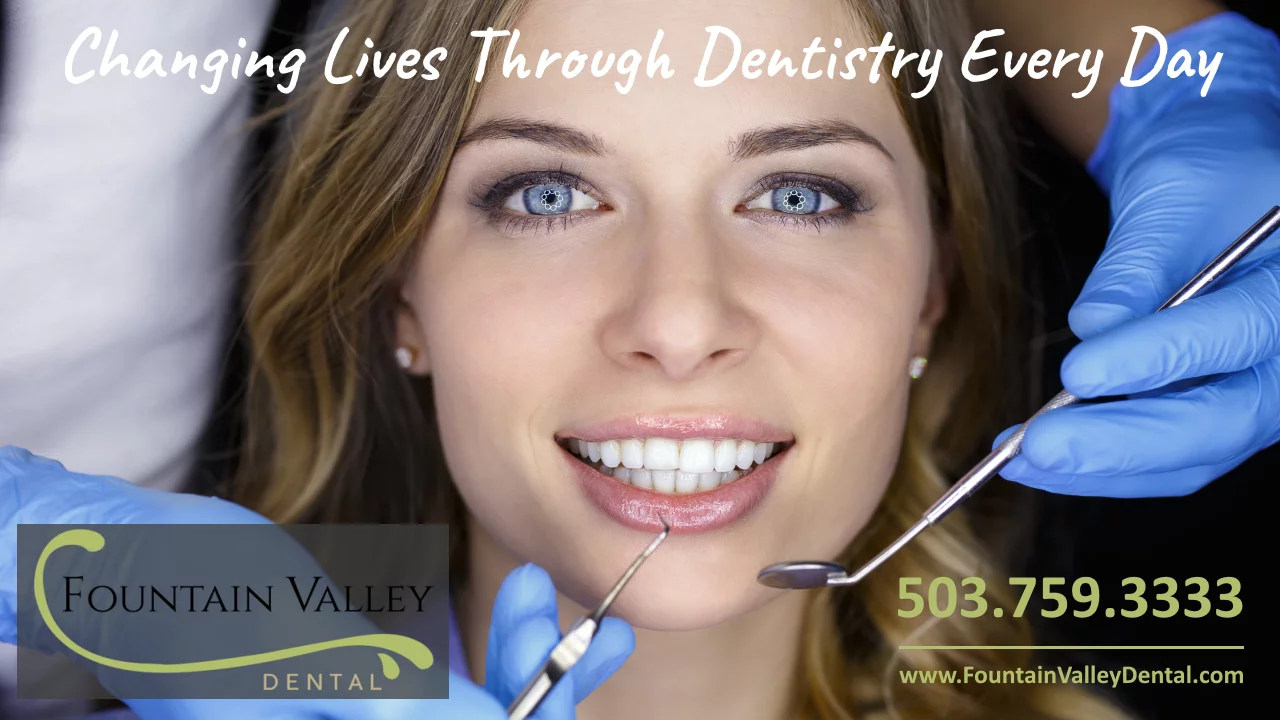 Dr. Ben Whitted, DDS and the Dentistry Team at Fountain Valley Dental in Molalla Oregon provide high-quality general dentist services, emergency dentistry, cosmetic dentistry, comprehensive dental exams and family dental care at our dental clinic in Molalla, OR. Our advanced dental services include crowns, bridges, dental implants, teeth whitening, Invisalign, braces, root canals, dentures, emergency dentistry, teeth cleaning, veneers, wisdom teeth, dental surgery, orthodontics, endodontics, dental hygienist service, dental checkups and exams, and more. Our office is located in Molalla, OR at 1400 Fountain Way, Molalla, OR 97038 and we serve the Southeast Portland Oregon and Clackamas County communities of Mulino, Oregon City, Canby, Silverton, Colton, Beavercreek, Estacada, Woodburn , Salem , West Linn, Clackamas, Gladstone, Tualatin, Wilsonville, Aurora, Hubbard, Barlow, Gervais, Keizer , McMinnville, Hayesville, Newberg and more. Give us a call at 503-759-3333 if you are experiencing tooth pain or are interested in finding out how we may be able to improve your smile through our expert cosmetic dentistry such as dental implants, Invisalign, braces, porcelain veneers and teeth whitening.
For quality dental care in Molalla, you can trust Fountain Valley Dental. We provide all of the dental services you need for a healthier and more attractive smile. Give us a call today to see what we can do for you and your family!