Dental Implants & Implant Dentistry at Fountain Valley Dental
Implant dentistry is an effective way to restore your smile to its natural beauty. Dental implants can improve both your overall health and your appearance. Dental implants can stimulate your jawbone, which keeps it healthy. The implants help prevent it from deteriorating or having other issues in the future. 
The Implant Dentistry Procedure
When you choose implant dentistry with Fountain Valley Dental, first, we will place your dental implants. During this surgical procedure, your dentist will implant small titanium rods into the jawbone. You will be given a few months, during which, the rods will fuse with the jawbone. At your next appointment, our team will restore your dental implants with gorgeous porcelain crowns. You can then start enjoying your full mouth of teeth that all feel, look, and function like natural teeth.
Dental implants also help to keep your replacement teeth in place at all times, so that you can eat, talk, and care for your teeth as if they are completely natural.
The Fountain Valley Dental Difference
When it comes to dental implants, we do things differently at Fountain Valley Dental. Many dentists send their patients away to specialists for the placement of the dental implants. Not us!
We are qualified to perform each and every step of the dental implant procedure right here in our office. This eliminates the hassle of finding a new office and dentist. Instead, you can stay in an office that is familiar with you, your needs, and your teeth. This makes the entire procedure so much more comfortable and convenient.
Our restorations are also different. Our crowns are completely metal-free. We will restore each dental implant with a porcelain crown instead of a metal one. A porcelain crown looks just like your real teeth and will blend in beautifully with your smile.
If you're ready to restore your smile, and to improve your future oral health, set up an appointment with Dr. Whitted to have a discussion about dental implants at our dental clinic in Molalla, Oregon.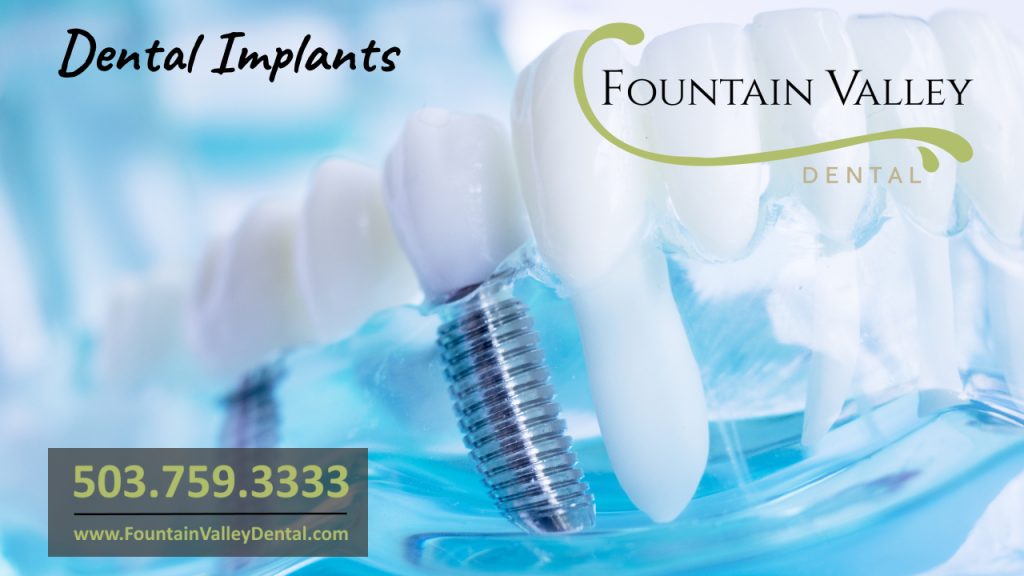 Meet Dr. Ben Whitted DDS at Fountain Valley Dental
It's a Team Effort at Fountain Valley Dental
In addition to expertly trained and experienced dentists and state-of-the-art equipment and facilities, The Dental Team at Fountain Valley Dental is as good as it gets. From our reception personnel, patient care coordinators and dental hygienists and dental assistants, our number one priority is the best quality dental care for you and your family.
Dental Implant Animated Simulation Video
What to Expect at Fountain Valley Dental
Listen to What Our Dental Implant Clients Have to Say
Our Goal is to Keep You Smiling For Life!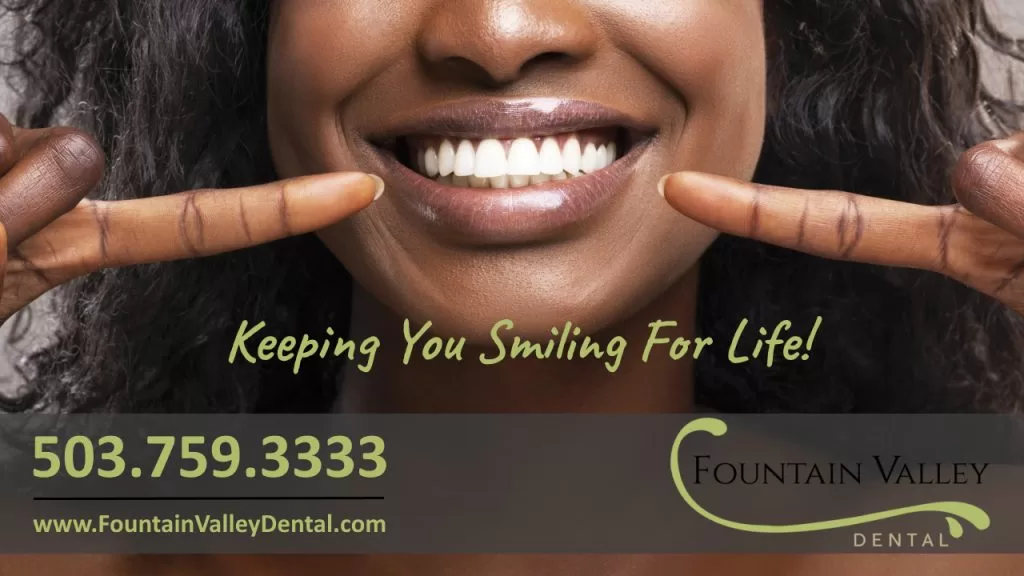 Call Fountain Valley Dental at 503-759-3333 to Learn More About Dental Implants & Extractions in Molalla, OR.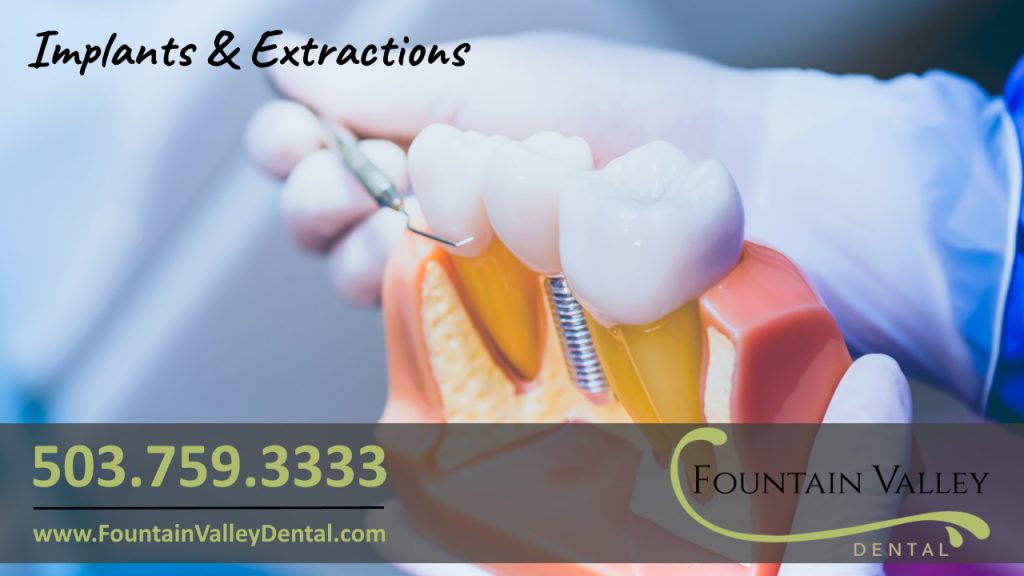 Learn More About Other Dental Services Offered at Fountain Valley Dental
Changing Lives Through Dentistry Since 2015
Fountain Valley Dental Service Areas at Our Dental Clinic in Molalla, Oregon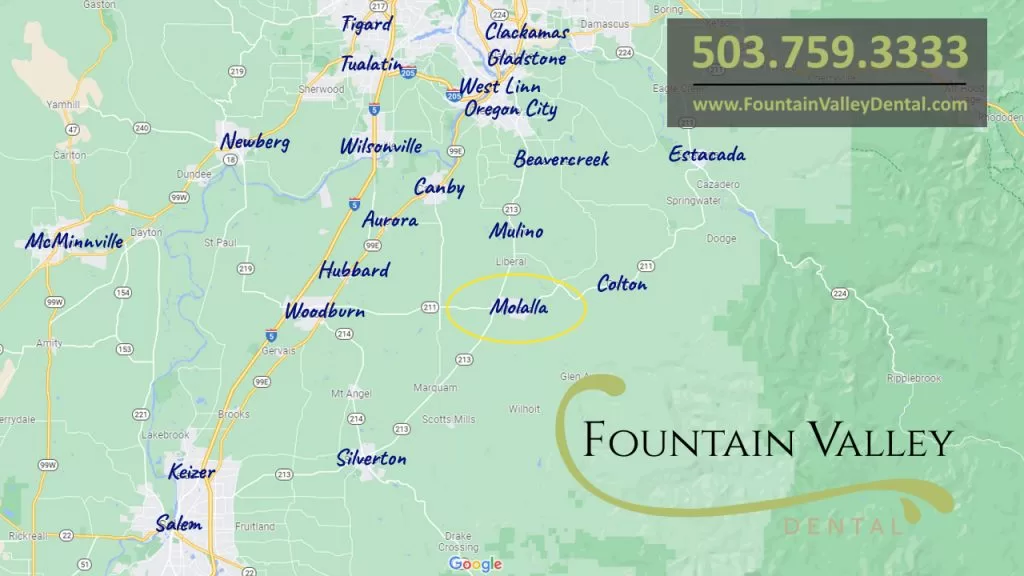 Our dental clinic and dentists are located in Molalla and we have many patients drive to see us for our exceptional dental care from around Clackamas County including the nearby communities of Molalla, Mulino, Oregon City, Canby, Silverton, Colton, Beavercreek, Estacada, Woodburn, Salem, West Linn, Clackamas, Gladstone, Tualatin, Wilsonville, Aurora, Hubbard, Barlow, Gervais, Keizer, McMinnville, Hayesville, Newberg and more.