Emergency Dentistry - Emergency Dental Services in Molalla, OR.
Emergency Dentistry Services at Fountain Valley Dental
As your emergency dentist in Molalla, Oregon, Dr. Ben Whitted DDS, can take care of any serious problems that suddenly arise involving your teeth and gums. If your teeth or gums are in pain, or you incur an injury to them, you should see your dentist as quickly as possible. Some of the problems that may require emergency dentistry include:
Your tooth is knocked out: It is possible that emergency dentistry could save your tooth. Wash your mouth out with lukewarm water. Keep the tooth moist, either between your cheek and gum or in a glass of milk. Call Fountain Valley Dental immediately.
Your tooth is chipped or broken: If you have knocked out pieces of a tooth or teeth, rinse your mouth and the pieces. Collect the pieces, keeping them wet if possible, and bring them to our office immediately.
You have a persistent toothache: If you have unsuccessfully tried to remedy your toothache with warm-water rinses and normal brushing and flossing, visit Dr. Whitted. A toothache can be painful and distracting, so we provide immediate relief at Fountain Valley Dental.
You have an object stuck in your teeth: If you are unable to remove an object from between your teeth with floss, it's time to visit Dr. Whitted. Don't use sharp tools to try and remove the object; instead, trust your dentist to do the work. Do not leave the object in your teeth, because it could cause pain or infection.
You have a broken jaw: If you hit your jaw and think it may be broken, call us immediately. You will need an x-ray and an examination to determine the next steps for your recovery.
You experience excessive mouth bleeding: If your tooth hits your lip or you bite your tongue or lip, watch for excessive bleeding. If the bleeding does not subside or if you are in extreme pain, see Dr. Whitted for emergency dentistry.
You lose a piece or pieces of your dental work: When you lose a filling, crown, implant, Veneer, bridge, or another piece of dental work, you should see Dr. Whitted as soon as possible. The more quickly we can fix your dental work, the less discomfort you will experience.
You experience broken orthodontia: If your wires or brackets break, or if your Invisalign breaks or cracks, visit us at Fountain Valley Dental right away so that you can avoid the pain of poking metal in your mouth or having to go backward in your Invisalign treatment.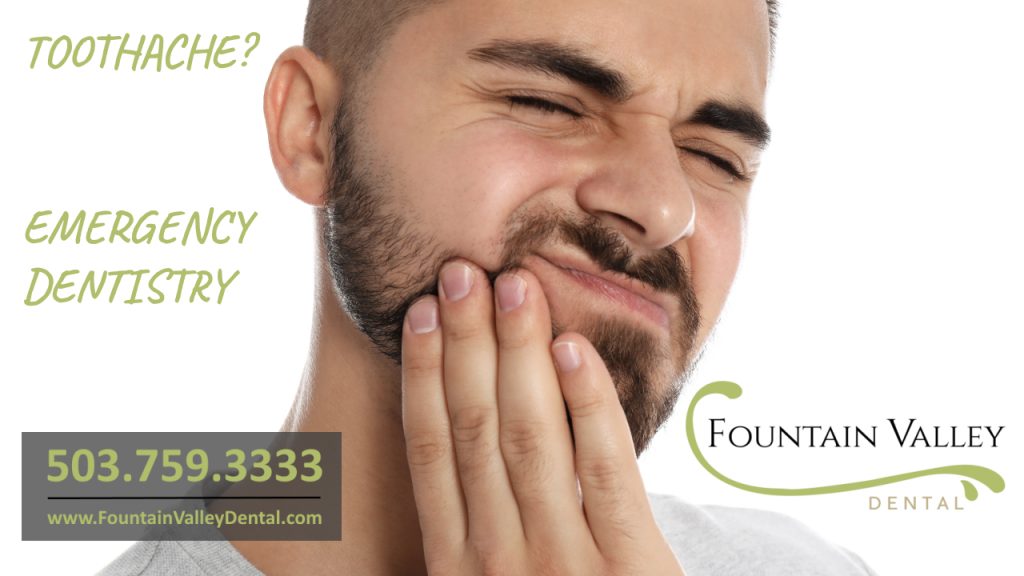 What to Expect at Fountain Valley Dental
Fountain Valley Dental is Here For You
Whether it's to you or a loved one, accidents do happen. Because accidents are a part of life, you should have a dental team who are always here to help. Dr. Whitted makes time in his schedule for patients who need emergency dentistry. We care about your needs and want you to rest assured that if you have an urgent problem, we are here for you.
Call Fountain Valley Dental today to set up an appointment with a dentist who cares about making your life safe and worry-free.
Call Fountain Valley Dental to Relieve Your Toothache Pain or Fix Your cracked or damaged teeth or dental work.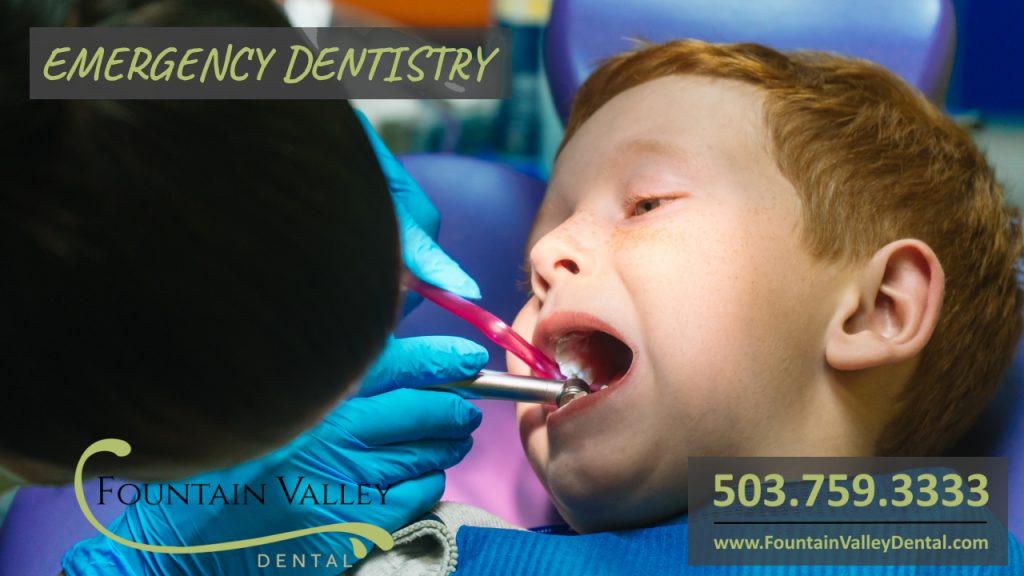 Call Fountain Valley Dental If You Are In Need of Emergency Dental Services
Our dental clinic and dentists are located in Molalla and we have many patients drive to see us for our exceptional dental care from around Clackamas County including the nearby communities of Molalla, Mulino, Oregon City, Canby, Silverton, Colton, Beavercreek, Estacada, Woodburn, Salem, West Linn, Clackamas, Gladstone, Tualatin, Wilsonville, Aurora, Hubbard, Barlow, Gervais, Keizer, McMinnville, Hayesville, Newberg and more.
If you are in pain give us a call right away for Fountain Valley Dental Emergency Dental Services.
Give Fountain Valley Dental a call at 503-759-3333 to schedule an appointment or if you have any questions regarding Emergency Dentistry.  You can also Contact Us via our online email contact form.
Changing Lives Through Denistry Since 2015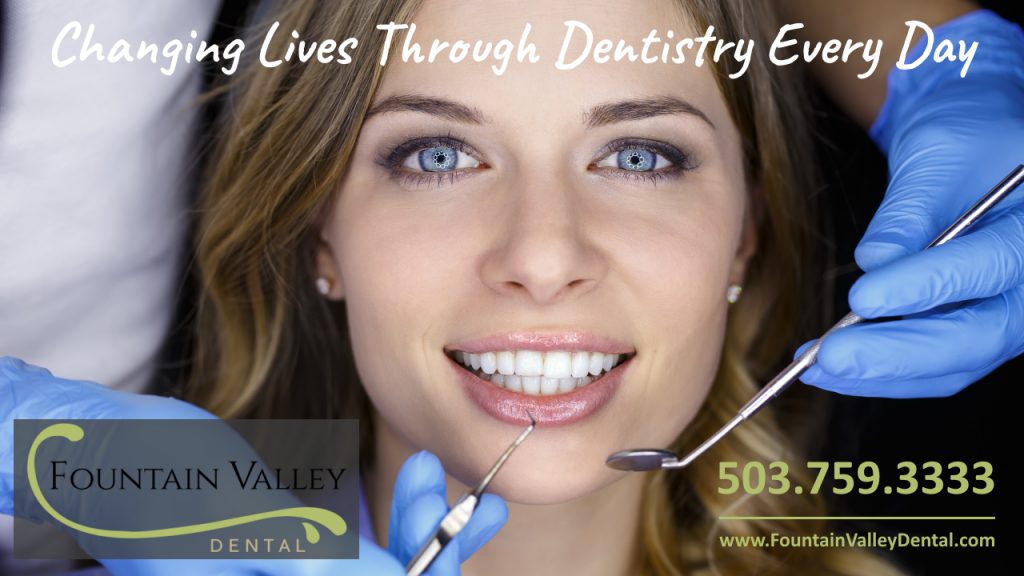 Our Goal Is To Keep You Smiling For Life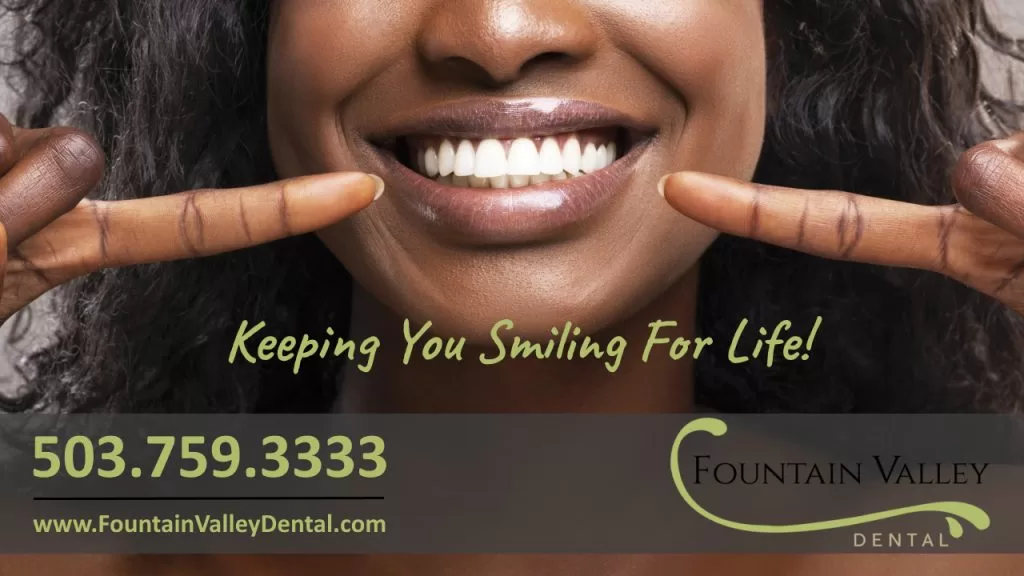 Visit Us in Molalla For All Your Clackamas County Dental Needs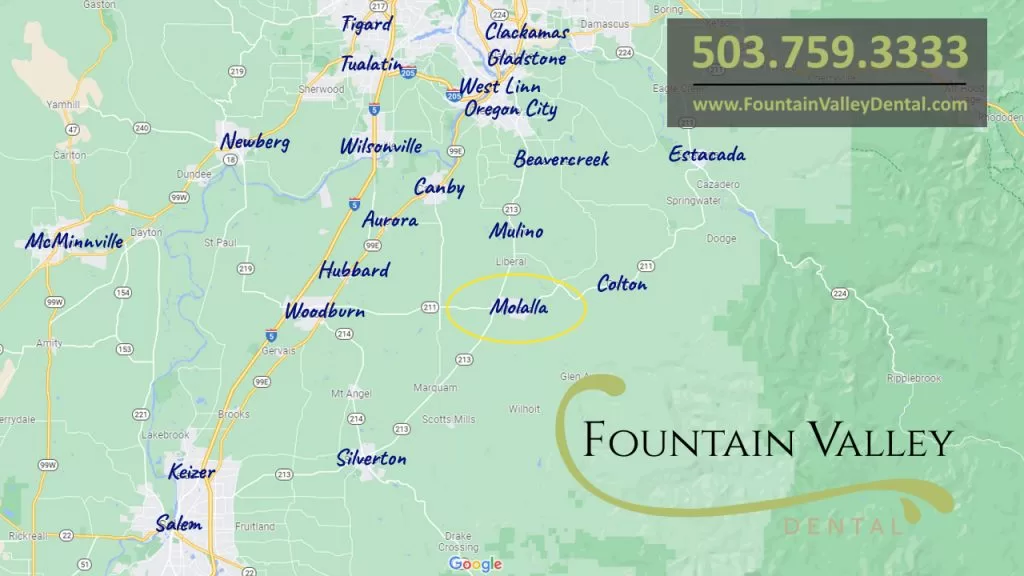 We Are Committed To Excellence In Dentistry